In the early 1950s, as a side job from working with his brother Lawrence building houses, John Knez Sr. found himself working for Fred Alt, a building material supplier and manager of A. McMillan & Co., a company that had been running for quite some time. The company, opening sometime in 1902, started hauling sacks of plaster to nearby homes and various job sites by employees with nothing more than horses and a wagon.
John Sr. started out at the bottom. Sweeping floors, carrying sacks of plaster, and putting orders together were his daily routine. Eventually he started to work with the crews delivering plaster and other materials. Soon after as the industry changed they began delivering drywall as well.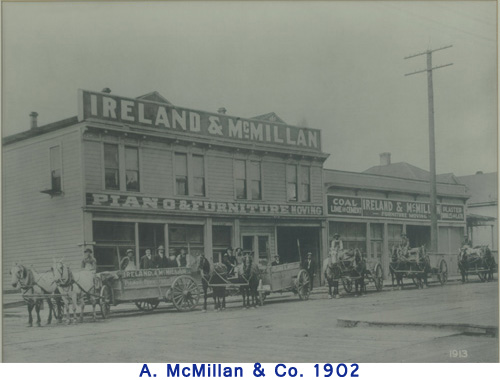 John Sr. continued working for A. McMillan making deliveries and learning all that he could about the industry making continual contributions to the company. One day he was approached by the company owners and asked to become a salesman (where we're sure if any of you know John Sr. today, this was his true calling.) All the while John Sr.'s business skills were growing, his family at home was growing as well. With five children now under one roof, John Sr. greatfully welcomed the newly offered position. John continued working two jobs like this for some time until one day his manager, Fred Alt came to him with the offer to become his replacement once again giving John Sr. the opportunity to advance in the company. More years went by and after more stores opened and more people came and went, the McMillan family wanted out. McMillan came to John with the offer of the company knowing he could leave it to a man that would give his company energy and new life. John Sr. agreed. Taking on his sister Violet to run the books and hiring on his 5 now growing and able children to start working for the family, John Sr. started on a new venture to grow the company. Working together as a family, the Knez's continued to run the company for 2 years under the banner of McMillan until moving shops to a space in Tualatin, Oregon.
After years of working, growing, and saving, the family finally purchased their first warehouse in Tigard, a short distance away on Hunziker Street where the name Knez grew to what it is and is still the main base of operations today. With hard work and family ties kept tight, the Knez's continued to run the company under the strong beliefs that having the best quality products and service is the way to success. This is something that the company put forth on a daily basis under the watchful eye of John Sr. as the company continually grew. Getting jobs done in the most efficient, timely, and safest fashion possible are what allowed the Knez family to easily expand the company.
Starting in the late 70's with the opening or our Vancouver, Washington store (moved to current location in 1994) to the opening of our Salem shop in 1981, we kept building upwards. In 1981, '83, and '84 we also opened up our Springfield, Hillsboro, and Bothell stores (All 3 Now Closed). From there we moved onto the opening of our now corporate headquarters in Clackamas in 1986, as well as the opening of our first downtown Portland location. None of this could have been done without the family sticking together and doing their parts. John Sr. created a sense of togetherness and made sure everyone could contribute in their own ways, allowing the company to expand far beyond what it once was.
Today, now in his early 90's, John Knez Sr. still comes to work everyday where he enjoys watching his legacy operate under his new management. His 5 children now own and operate the company with a third generation of family coming up through the ranks. John Knez Jr. is now the President of the company running the day to day operations alongside his brother Joe acting as Vice-President and lead mechanic making sure all the pieces of Knez's equipment are in full running order. Katherine is the Secretary with her sisters Joann and Janet in place as Co-Treasurers making sure all the companies numbers are in place.
We now employ over 100 employees, operate out of 6 locations, and run one of the largest fleets in our area on a daily basis to serve our ever-growing and muchly appreciated customers. What was once the view of John Sr. is still the goal of the company today. "The key to our success is to get along and help each other out, to get the job done, and to do it with a sense of pride." With this in mind the second generation Knez family, as well as the now upcoming third generation, will continue with our mission of becoming the biggest and best building materials supplier in the Northwest.